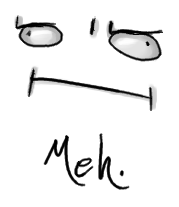 Some crap here is ~frands only~, some isn't. It's kind of erratic. Most of what isn't is fanart or fandom stuff in general (whenever I post more.) The friends only entries are mostly me babbling about school and junk though, so you're not missing much. Comment here or send a message if you want an add for whatever reason, lol.

I should also say, I'm not exactly new here. I had an old journal forever ago, but I completely forgot about it. Even if I did remember the thing, the email address it was registered to is defunct, so I may as well start anew.

Everything is best seen in Firefox, because Chrome likes to mess up the comments (tried everything that should fix it, but it won't).